My Favorite Quick and Easy Healthy Fish Dinner Recipes for Busy Folk
August 28, 2018 •4 min read
Those who know me know that I love fish. It is a lean source of protein loaded with healthy fats. It is easy to cook, and there are lots of different types of fish which means lots of different flavor profiles. I regularly cook fish once or twice a week, and drive my cat crazy in the process.
Here I have gathered my favorite healthy recipes for cooking fish. I focus on avoiding butter or breading the fish to keep an already healthy meat good for you. I also favor short ingredient lists for both health benefits and time savings, and provide some of my time- and money-saving ingredient substitutes.
I am a super busy professional, so I look for quick, easy recipes with ingredients that I have in the house already without having to add them to a grocery run. All of these recipes can be cooked in under 30 minutes, and none take more than 10 minutes of preparation time.
Honey Garlic Salmon
This recipe takes about 10 minutes to prepare and another 10 minutes to cook. The salmon is pan fried in olive oil and it results in a sweet and tangy fish that is crispy on the outside and juicy and flaky on the inside. It is best with salmon fillets that have skin.
This recipe only needs five ingredients: salmon, olive oil, garlic cloves, honey, and lemon juice (and a little salt and pepper).
Please note that the original recipe calls for oil; I always use Extra Virgin Olive Oil as that is the healthiest option. I also don't like spending time chopping garlic cloves, so I substitue with freeze dried garlic.
Pan Seared Ahi Tuna Steak
This recipe takes about 10 minutes to prepare and cook. The ahi tuna steaks are pan fried in olive oil to your preferred level of doneness - I like a nice pink center, but my husband likes the fish to be cooked all the way through, so I leave his in for a bit longer than the recipe calls for. The fish is really good on its own or with soy sauce.
This recipe only needs five ingredients: ahi tuna steak, salt, pepper, lemon pepper, and extra virgin olive oil.
Get the Recipe at Life is Noyoke
Oven Roasted Mahi Mahi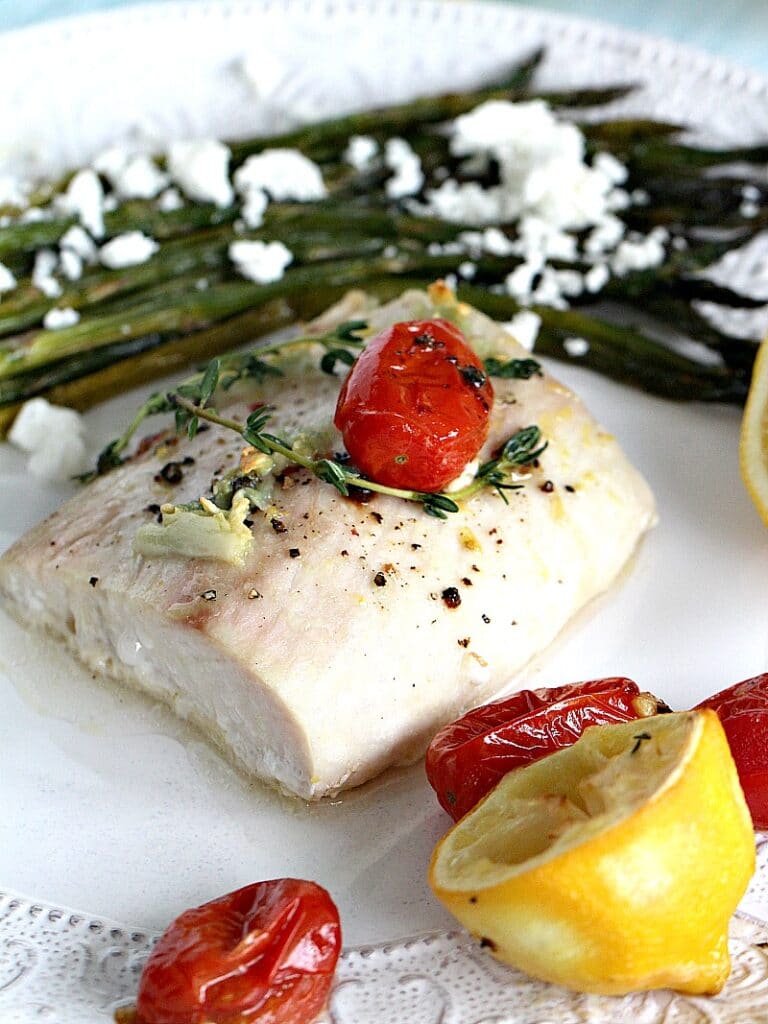 This recipe takes about 10 minutes to prepare and another 15 minutes to cook. This recipe is easy to make, and I make some changes to make it faster and with ingredients I actually have around the house.
I usually skip the lemon zest as I normally don't have fresh lemons around. As usual, I use freeze dried garlic instead of garlic cloves. I skip the grape tomatoes as I rarely have those around either, and I use dried thyme instead of fresh and real lemon juice instead of lemons.
Of course, the recipe is best as written with the additional fresh ingredients, but if you're like me and trying to save time and not wanting to buy special ingredients for a single meal, the substitutes still work great.
With my modifications, this recipe only needs seven ingredients: mahi mahi fillets, olive oil, lemon juice, garlic, salt, pepper, and thyme.
Get the Recipe at Sweet and Savory Meals
Easy Oven Baked Tilapia
I'm not actually sure where I got the recipe originally. I just go by memory at this point.
Pre-heat the oven to 425 degrees. Line a baking dish with foil and spray with nonstick spray. Add tilapia (frozen or thawed, frozen will take a few more minutes to cook) to the baking dish and top with the following seasonings: lemon juice, salt, pepper, cilantro.
I rarely have fresh cilantro lying around since it spoils and always comes in batches that are too large to use at once, so I substitute with Litehouse Freeze Dried Cilantro.
Bake the tilapia in the oven 11-15 minutes if thawed, a few minutes longer if frozen, until the fish is opaque.
This recipe only needs five ingredients: tilapia, lemon juice, salt, pepper, and cilantro.
Share
Think others might enjoy this post? Share it!
Comments
I'd love to hear from you, let me know your thoughts!